THE FINLEY CENTER
State-of-the-art 155,000 square foot sports complex and event venue with 83,000 square feet of continuous space.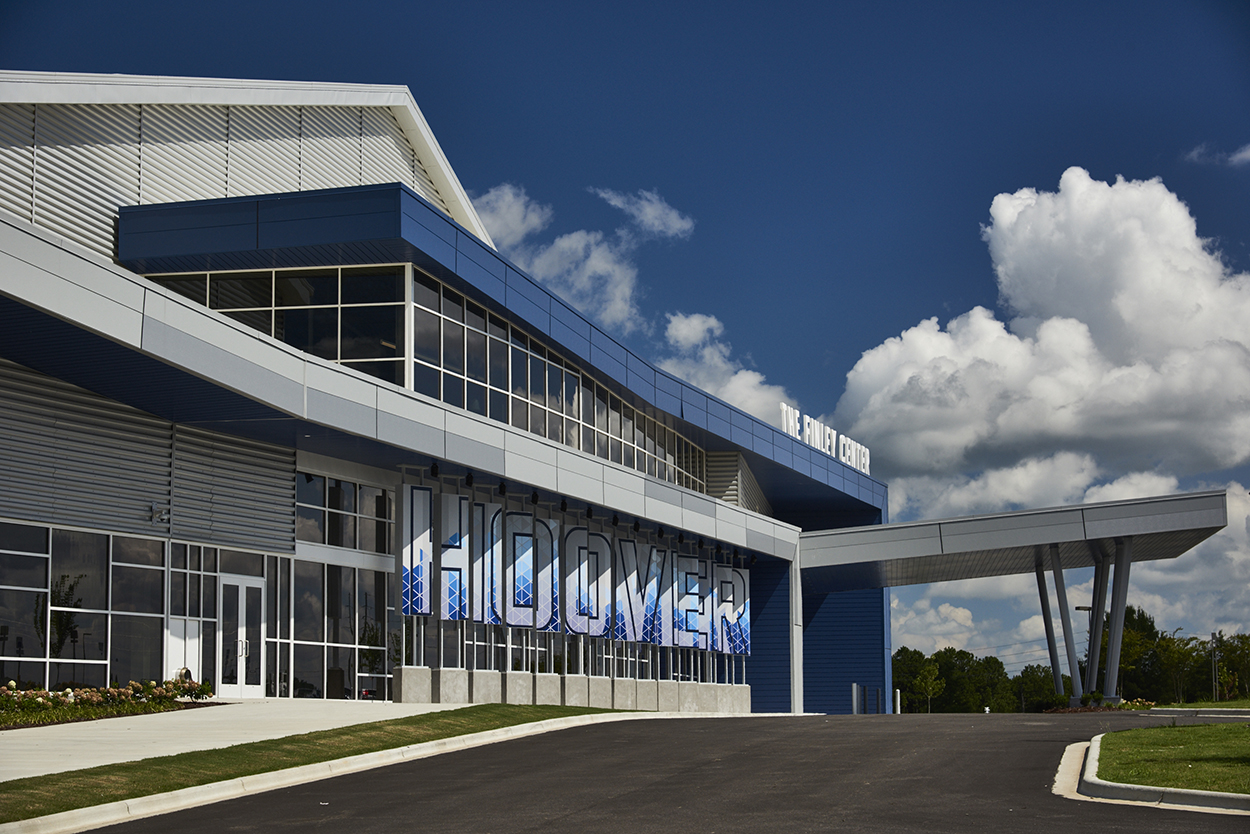 Event Lawn
The Finley Center offers a completely unique experience with the Event Lawn outdoor space. The sprawling, outdoor event lawn has the capacity to hold up to 2,000 people. Located right outside the sports complex, perfect setting for pop-up tents to allow you to relax and enjoy friends and fellowship in between matches.
Hoover Met Complex RV Park & Parking Lots
The Hoover Met Complex RV park features 170 pull-through parking sites. Each site is equipped with water, sewer services and 20, 30 and 50-amp electrical service. We also have Wi-Fi available throughout the RV park for guests. The park also provides daily garbage pick-up.
The Hoover Met Complex RV Park is in close proximity to local restaurants, shopping, and entertainment, meaning you'll be just a short distance away from a variety of events and activities.
Have a question? Call us at (866) 466-8378 or send us an email at RVPark@HooverMetComplex.com. You can make your reservation at the Hoover Met Complex RV Park online or by calling (605) 275-1980.
Available Amenities
At our RV park, we have the following amenities available to our guests:
• Power, Sewer, and Water Hook-ups
• Wi-Fi Access
• Access to Indoor Walking Track and The Finley Center
• Close to local restaurants, shopping, and entertainment!
Hoover Met Complex RV Park Policies & Procedures
In order to make sure that you and our other guests in have a great time during your stay, we have established a few regulations we ask you to keep in mind.
IMPORTANT — For your safety and the safety of others, please carefully read and follow these instructions. When using an auxiliary power generator, exhausting extensions must be attached and the exhaust opening must extend beyond the roof line.
Please observe quiet hours from 10:00 p.m. until 6:00 a.m.
"Doubling Up" is not allowed – only one RV and tow vehicle are allowed per site.
Do not block thruways. Please ask any person visiting you while at the RV park to park their vehicle in the adjoining stadium parking lot.
Display your permit visibly in your RV during your stay.
Please use wooden blocks under leveling jacks.
Do not use stakes in grass or asphalt areas.
Open fires are not allowed, except in grills.
Deposit trash in dumpsters provided onsite.
Pets must be kept on a leash and under your control at all times. Be considerate of others – clean up any waste left by pets and observe the designated "No Pet Walk" areas.
Golf carts and other motorized vehicles may only be operated on RV park grounds and stadium parking lot by persons with a valid driver's license.
All vehicles including trailers, campers, and motorhomes must have current registration and display a current license plate.
Length of stay is limited to 30 consecutive days. After a 30 day stay, patrons are not eligible to return for 30 days.
RV Park Cancellation Policy:
Guests will receive a full refund prior to 48 hours of the reservation time less a $10.00 administrative fee. No refunds will be given within 48 hours of the reservation time.
Please be aware that management assumes no liability for loss or damage to property or injury to any person arising out of the use of these facilities. Remember to take care of any valuables you bring with you, and always keep your own safety in mind.
In case of an emergency, please dial 911.

Hours of Operation
SCHOOL-YEAR HOURS
Monday – Thursday: 3PM – 8PM
Friday: 3PM – 9PM
Saturday: 10AM – 9PM
Sunday: Available for private parties only
Hours are subject to change due to availability during large-scale tournaments or private events at Hoover Met Complex. Last climb will begin 1 hour BEFORE closing.
Tickets can be purchased during hours of operation to access the climbing and adventure center for your desired length of time. Equipment is included!
Kids (12 & under)
$12 (60 min) | $14 (90 min) | $16 (120 min)
Students (with valid ID)
$12 (60 min) | $14 (90 min) | $16 (120 min)
Adults
$12 (60 min) | $14 (90 min) | $16 (120 min)